UPDATE: Due to the current public health crisis and the state's "Safer at Home" edict, we have postponed the Lift-a-Thon indefinitely. Below is the original event information if you are interested should the event be rescheduled for later this year or 2021. If you would like to make a donation to the Foundation in lieu of the lift-a-thon, we'd welcome your support as we continue to offer scholarships to area youth — check out our Scholar Update. Thank you and be well.
---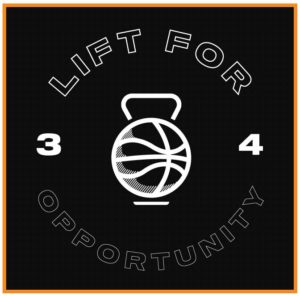 (Original info:) Join us on Saturday, May 9, 2020, at Funtional Integrated Training (FIT) for our 'LIFT for OPPORTUNITY'! This lift-a-thon event has been organized and coordinated by friends and teammates of Will Kellerman who are looking for a new way to make a difference.
At the lift-a-thon, participants can choose to deadlift, squat, or bench as much weight as they can — one rep or a cumulative of multiple reps — to raise money from their sponsors. Choose one lift, two lifts or do all 3 — it's up to you. The goal for each participant is to raise at least $100. Sponsors may pledge either a fixed donation or for every pound lifted. For example, a pledge could be a fixed amount, such as $50, or the donation could be based on the total amount lifted. If a pledge is made for 10¢ per pound and the participant lifts a total of 1,000 lbs, the total pledge at 10¢ per pound would be $100. All proceeds benefit the Opportunity 34 Foundation Scholarship Fund.
BECOME A PARTICIPANT by scrolling down to complete the registration form. If you would like to make a donation on behalf of a participant, click here and enter your donation amount and the participant's name in the "In Honor of" field.
---
Opportunity 34 LIFT for OPPORTUNITY
---
► Saturday, May 9, 2020 | Noon to 2:00pm
Functional Integrated Training, 5380 King James Way, Fitchburg, WI 53719
Submit your registration information below and then review additional information and download your Lift Pledge Sheet on the registration confirmation page.