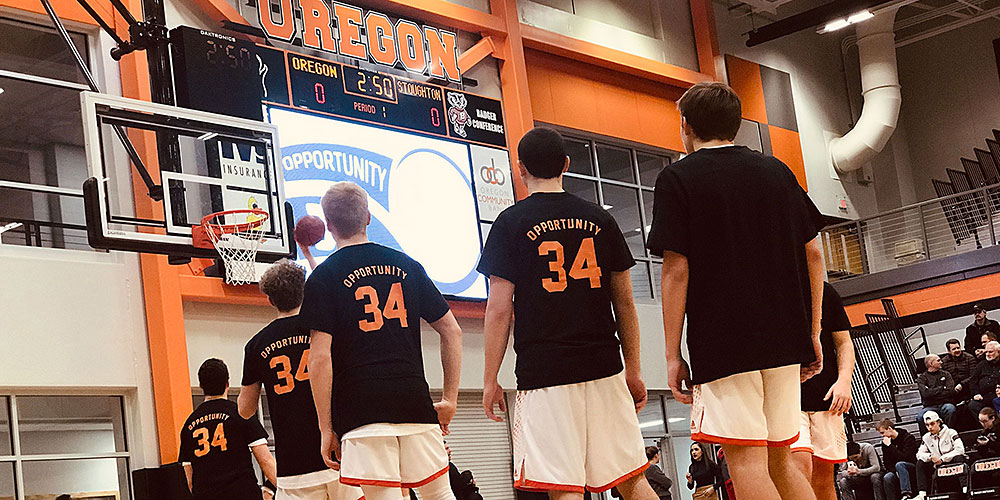 [UPDATED: 3/3/2019] We asked for it to "rain" and, boy, did it ever. The Oregon and Stoughton basketball communities lived up to the theme of our special "Make It Rain" night during Friday night's boys basketball game. The night included players from both teams wearing special Opportunity 34 Make It Rain t-shirts, a "Miracle Minute" and three-point contest. Participation and support was overwhelming.
It was truly an honor to stage this event at a home game where Will's cousins play, and we continue to be humbled by the outpouring of support from friends and acquaintances in Oregon, as well as from the visiting Stoughton basketball family. It is so gratifying to see the reach & influence of Opportunity 34 expand to Oregon as well as all over Dane County and beyond.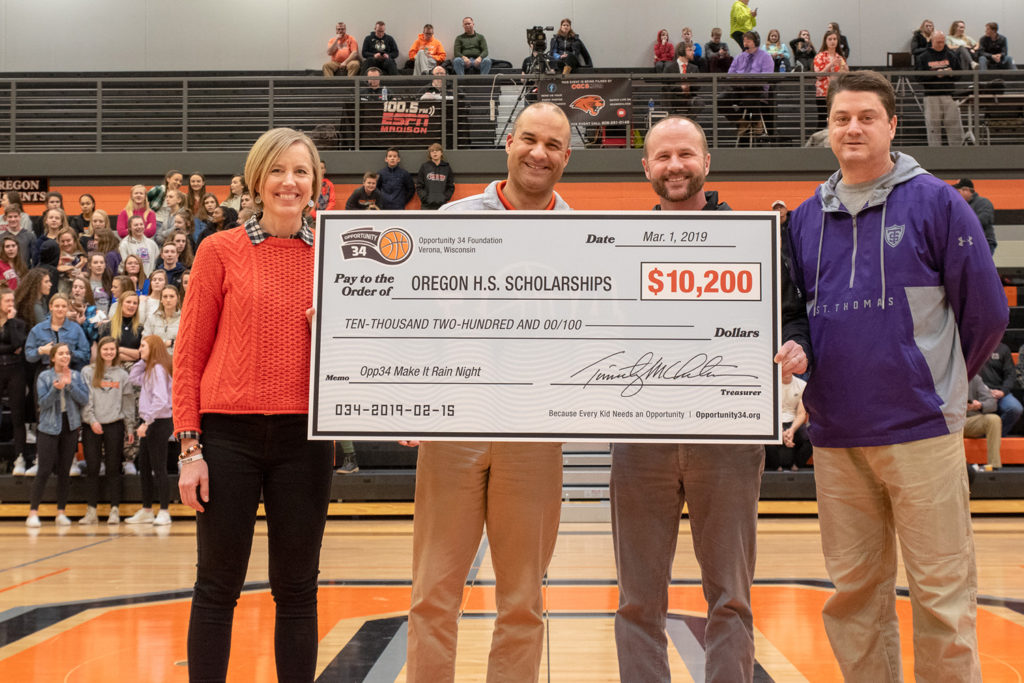 The Oregon Make It Rain Night raised more than $10,200* — $3,100 from the Miracle Minute, $200 from the 3-pt Contest; donation from ticket sales by the Oregon Athletic Department $1,000; community donations $2,500; and the matching donation of $3,400 from Opportunity 34. INCREDIBLE! Thank you so much Oregon and Stoughton! Funds raised at this event will be awarded to Oregon students at a future date, as selected by the Oregon High School scholarship committee. A check for $10,200 was presented to Oregon High School Scholarships on March 1, 2019 at the boys basketball WIAA regional game (photo by Eddie Brognano Photography).
Check out these pictures from the event and, if you have a few minutes, please watch the brief introductory video below that was shown before Friday night's game. It features comments from Will as well as voice over comments from Will's former coach at Verona, Alan Buss. It helps tell the Opportunity 34 story and keeps us focused on continuing Will's legacy.
* This is an updated total after a recount including community donations… thank you, Oregon!