Written by Dusty Zenz, 2019 Opportunity 34 scholarship recipient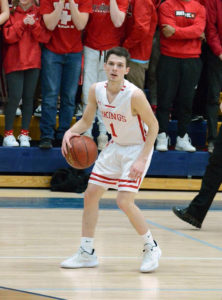 People see the conference championship, the 22-4 record, and the sectional final appearance. But, what they do not see is all the work and struggle that goes into achieving things like that. Each summer, I was in the gym and weight room just about every day. There were mornings when I didn't think I would be able to get out of bed because of how sore I was, but to me it was all worth the pain and struggles.
However, it is not a rosy picture from there. I suffer from extreme anxiety and so no game day was ever normal for me. Most people loved game days … I hated them. I would wake up in the morning and feel like I had the flu, I would vomit and sweat almost every day. It didn't get easier when the game started, because I felt sick all day. I didn't drink water on those days. I would vomit before, sometimes during the game, and at halftime. I had to learn to play at a high level while dehydrated and tired. There were times when I wanted to quit because it would have been easy. I wanted to live without that anxious feeling, without vomiting and having continuous worries.
Through all these challenges I never gave up and never quit. I wouldn't have been able to do this without my coaches, parents, and friends. Next year I plan to go to Madison Technical College and take the liberal arts program.